Well Done Sarwanji👏👏👏👏we all very proud of our Guru🧘🏻‍♂️👌👍
Celebrate international yog day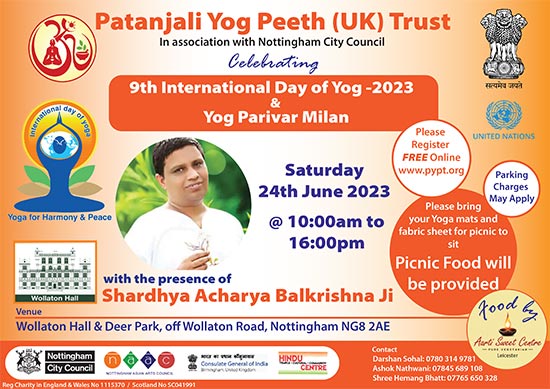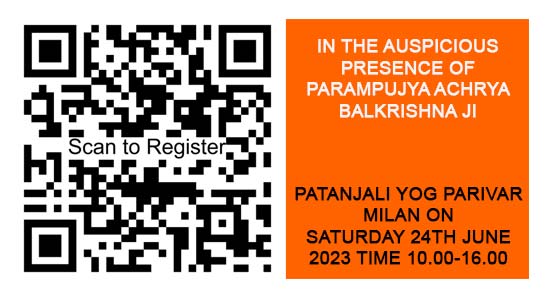 Glasgow Yoga event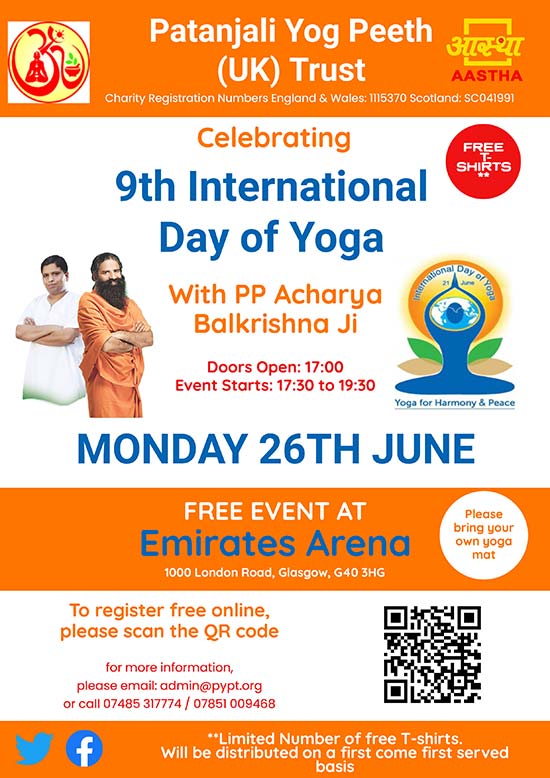 Join us for International Yoga Day 2023 with a FREE yoga event, featuring PP Acharya Bal Krishna Ji, presented by Patanjali Yog Peeth (UK) Trust!



DATE: Monday, 26th June


TIME: Doors Open at 5:15


LOCATION: Emirates Arena, Glasgow



Experience the unparalleled expertise of two of India's renowned yoga teachers, who will travel from India to Glasgow for this exclusive event. Prepare to be transformed as they share their profound knowledge and captivating teaching style!


Discover the incredible power of yoga to harmonise your mind, body, and spirit, unlocking your true potential in all aspects of life. This event is an extraordinary opportunity for growth and self-discovery!



This event is completely free. Join us and immerse yourself in a supportive community of like-minded individuals united by their passion for yoga.



Spread the word and invite your friends and family to join us for this remarkable gathering of yoga enthusiasts. Let's make this event a truly memorable experience!

Register online at: https://www.eventbrite.co.uk/.../the-9th-international...


Yog - The Way to Good Health and Wellbeing
YOGA ENRICHES YOUR MIND, BODY AND SOUL
Swami Ramdev Ji, the world's leading yoga master, established Patanjali Yog Peeth (UK) Trust in 2006, with the specific aim of promoting the ancient Indian science of yog and thus spreading its benefits as widely as possible in the UK.

Swami Ramdev Ji, has pioneered a simple approach to practicing yoga and has strived to improve the quality of life for everyone through his revolutionary breathing techniques known as Pranayam. His passion and dedication are the driving force in promoting good health. Based on a series of pranayam (systematic breathing techniques) combined with yoga asana (postures). His methods are very simple and suitable for all ages and abilities.

Yoga goes beyond being a set of physical exercises. In fact physical fitness is a by-product of Yoga. Yoga teaches us how to lead a balanced life. Yoga promotes health, happiness and inner harmony using breathing techniques and physical exercises which is designed to re-energise, rejuvenate and revitalise our mind, body and soul.

If practiced regularly and efficiently key benefits can include: reduced stress levels, improved circulation, healthier joints, enhanced strength, agility and body tone, weight regulation, boosted immune and digestive system, enhanced energy, concentration and flexibility.

Support Patanjali Yog Peeth (UK) Trust-When you shop at smile.amazon.co.uk,
Prince Charles advises people recovering from Covid to practise yoga
Prince Charles advises people recovering from Covid to practise yoga Exclusive: Royal says doctors should include complementary healthcare in 'roadmap to hope and healing'
Fri 28 May 2021

Prince Charles has suggested that people struggling to return to full health after having the coronavirus should practise yoga. In a video statement on Friday to the virtual yoga and healthcare symposium Wellness After Covid, the heir apparent said doctors should work together with "complementary healthcare specialists" to "build a roadmap to hope and healing" after Covid.

This pandemic has emphasised the importance of preparedness, resilience and the need for an approach which addresses the health and welfare of the whole person as part of society, and which does not merely focus on the symptoms alone," Charles said.

https://www.theguardian.com/uk-news/2021/may/28/prince-charles-advises-people-recovering-from-covid-to-practise-yoga
Unravelling the science behind ayurveda
PYPT UK is excited to announce our online Assistant Yoga Teacher level 1 Training sessions
These sessions are based on traditional yoga teachings of PP Swami Ramdev JI - 28Hrs over two weekend online programmes.

This course is designed for those souls with an interest in yoga, spirituality or meditation. Our Online Yoga Teacher Training level 1 offers an opportunity for self-growth, personal development and transformation while providing the tools necessary to develop your own personal practice or to step into your calling as teacher and guide. The experience will be richly informative, empowering, and inspiring. This is a perfect opportunity for any aspiring yoga teacher.

You will be trained by our 'International Teacher,s Coordinator' Mr Sarwan Poddar and joined by other experts during your course and be able to join a community of yoga teachers.
FOR UPCOMING PROJECT FOR PATANJALI YOG CENTRE IN ENGLAND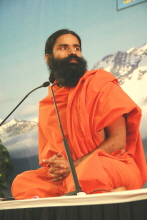 With the Inspiration and blessings of Pujya Swami Ramdev jee and Acharya Balkrishna jee, we started Patanjali Yoga classes in the UK.

With their guidance, we have grown strength to strength. Respected Mrs Sunita Poddar has supported this endeavour and taken it far. She has given great time effort and funds to build, support and grow this institution.

The organization has grown since and now we are at a point where we could benefit the wider community with the services of Yog, Herbal support and teaching our younger generation.

This way we spread the word of peace, love and care for the whole society and make our family and friends healthier and happier.

To this end, we are now planning a Yog Centre in England and would like your support for the same.

This centre will be for doing physical Yoga exercises and complete rejuvenation of the individual to empower the wider society.

The studies of the Saint Patanjali is used as a basis for this understanding the Ashtanga Yog.

It is the greater understanding that only having a healthy body is not good enough, our spiritual and mental well-being is equally important.

We use the ancient wisdom of saints who did research on themselves and the whole community around them to uplift them.

They taught mental yoga along with the physical so as to centre themselves and have less mental stress and health problems.

From that Call of inner Health, the health flows to the physical that is our body and organs get better.

At the Yog centre, we can invite specialists both from the UK and abroad who would come and guide everyone including children.

If we can give our children, the practical knowledge and wisdom then we set them up for success in future.

So, please join us to donate and support and invite your friends and family to this great cause. This way we can get together and support this charitable organisation to grow and help the wider needs of our community.

Please donate generously to this noble cause.

Account Name – Patanjali Yog Peeth (UK) Trust
Sort Code – 20-79-06
Account Number – 53140709
Reference- PYPT YOG CENTRE
PLEASE SEND ME COPY OF BANK TRANSFER ,SO I WILL BE ABLE TO SEND YOU RECIPT BY EMAIL
MY EMAIL . DLSOHAL@PRANYOG.CO.UK


DONATE UPCOMING FOR PYPT YOG CENTRE IN ENGLAND
Standing Order Form Download PDF file
Please also complete and return a GIFT AID FORM if you pay Income Tax in UK
Free Yoga event 2019 27th to 29th September 2019
Join us from 27th – 29th September 2019 for the FREE Yoga Event in UK
Patanjali Yog Peeth UK Trust is delighted to announce that Swami Ramdevji will be visiting the UK between the 27th and 29th September 2019 to promoting Yoga with FREE events being held in London, please see details below. Our main purpose and focus for the event is to create awareness and promote health, prosperity and peace. Yoga is a perfect exercise for health, well-being, and making a lifestyle choice.
We hope these events, will give everyone the opportunity to practice yoga and learn how to focus and create harmony and peace in our lives.
We believe it will also further support the UK, s drive to become a healthier nation.
Venue and Time of FREE Yoga Camp with Yog Rishi Swami Ramdev Ji
27th September 18.30 – 20.30 pm
28th September 7.30 – 9.30 am
29th September 7.30 – 9.30 am
At Harrow Leisure Centre, Christchurch Avenue, HA3 5BD
For booking the 3 days FREE Yoga camp please click on to the below link:
https://www.eventbrite.co.uk/e/yoga-by-yogrishi-ramdev-tickets-68722584099?ref=eios
To avoid disappointment, please register online and bring a printout of the confirmation, on the day of the event for entry purpose.
If you need any further information please email info@pypt.org or dlsohal@pranayog.co.uk
Knowledge of Yog in the Community

Self Development Programme





Our self development programme is designed for individuals wishing to gain knowledge on the basic principles of how to lead a healthy life. The understanding gained from this can be used to support family and loved ones to adopt a healthier approach to life. The tuition of Yog Asanas, Mudras and Breathing techniques are excellent, engaging, enlightening and entertaining and welcomes beginners.

more

Donations

Make your donation here


To support PYPT's mission of a disease-free world, you may make donations by cheque or credit card.

more

Television Programmes

Watch Swami Ramdev on TV daily


Swami Ramdev Ji's programmes on yog/pranayam are broadcast daily on Aastha (free-to-view in UK on Sky)



"Watch Aastha and SANSKAR channel 24 Hrs in UK and Europe on SKY Channel No 724 & 725 respectively"

 

| | |
| --- | --- |
| Sky Aastha channel | 724 |
| Sky Sanskar TV | 725 |

Little Cumbrae Island

The Island of Little Cumbrae





The magnificent, historical Scottish island of Little Cumbrae situated in the Firth of Clyde off the Ayrshire coast, Little Cumbrae lies immediately to the south of Great Cumbrae with the Isles of Bute to the west and Arran to the south west.

Little Cumbrae Island where you can come to reenergise, rejuvenate and revitalise the mind, body and soul and experience the healing powers of the nature. Guests are offered Yog classes involving breathing techniques, physical exercises and postures. Laughter classes will uplift the soul and meditation will provide time for contemplation. Guests are also encouraged to take daily walks so they can explore the magnificent history of the island, and experience the natural beauty of the island including its natural streams, inland lochs and rolling hills. Whether it is a short visit or a weeklong stay, guests will leave the peace and tranquillity of this beautiful Scottish island feeling healthier, happier and healed.

more

Feature on Plants for Food & Medicinal Use

Mustard


Mustard consumed in little quantities helps to control digestion. Its oil helps heal wounds...

more

Yog Teacher Training

We provide Yog Teacher Training





If you love practicing yoga or would like to be introduced to the world of Yoga, here is your chance to participate in a teachers' certification course.

Even if you do not plan on teaching, this is a good training program that will deepen your practice and increase your knowledge of the philosophy of Yoga through the human body, mind and soul.

Yog teachers training is available to those individuals of sound means who wish to devote some time teaching yog and thus participate in Swami Ramdev ji's mission to create a disease-free society.

Our Yog Teachers training comprises of 3 different levels which is of 200 hours of class level training, self study and practice.

AYT level 1 is 60 hrs, AYT level 2 is 50 hrs and Level 3 Training is 90 hrs.

Further details on yog teacher training courses may be obtained from the PYPT office - click on 'more' below.

more

QUOTES
Each work has to pass through these stages: ridicule, opposition, and then acceptance. Those who think ahead of their time are sure to be misunderstood ~ Swami Vivekananda
---
First they ignore you, then they laugh at you, then they fight you, then you win ~ Mahatma Gandhi
NEWS
Children Yog survey- please complete the survey
Patanjali Parivar Milan online 15 Nov 2020
AYT training online November 2020
International Yoga Day June 2020
Coronavirus Update
view all
Facebook post
twitter post
TESTIMONIALS
'Fantastic class, great atmosphere and fabulous company. A great way to start my day.'
view all